On Demand Courier Delivery App Development Solutions
Track your customers and delivery agents with on demand courier delivery software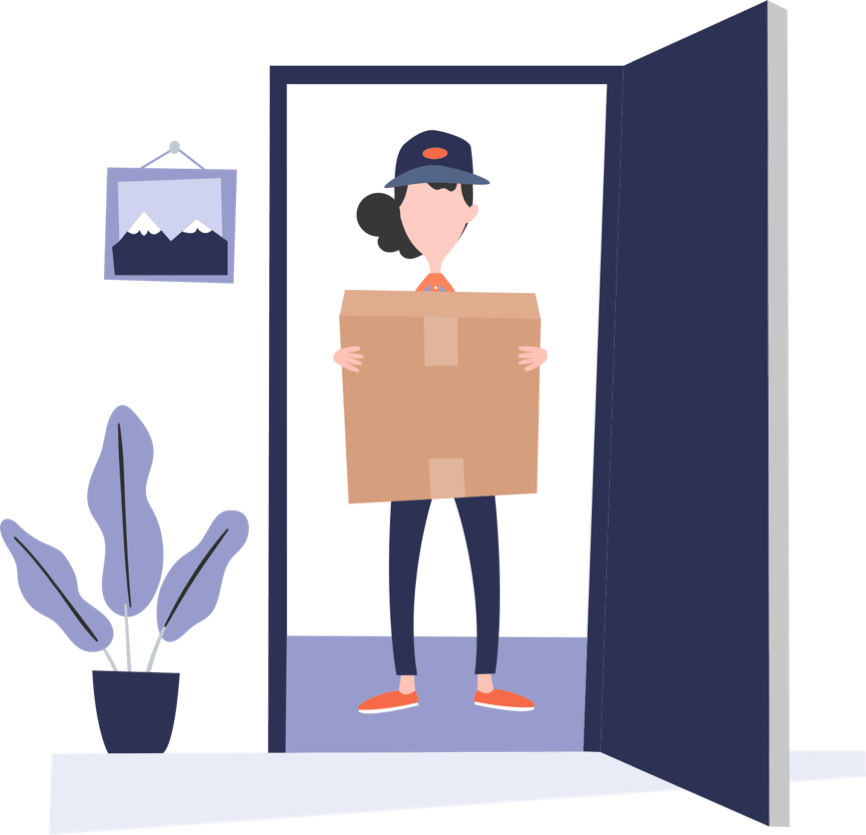 The courier delivery industry is one of the rapidly transforming sectors. The numerous technical transformations have been seen in this sector in the last two decades. Earlier, the parcel often lost in the way or remained stuck in the heavy traffic due to transportation issues. The sender and receiver have to bear the loss. But the uber for x model has brought so many technical transformations in this market segment. Earlier, the business owners have to think twice before investing in marketing as there are already many other expenses associated with this courier pickup and delivery services. But now online courier delivery system provides a marketing platform to them through which they can directly connect with the potential and new customer very easily. They can stay engaged with their customers by sending a real-time notification related to the latest offers, discount vouchers or loyalty programs held by them. In this way, they can build their online business presence with on demand courier service app development services.
The courier delivery companies generally face difficulty in tracking the tasks of their employees. It was impossible because generally, the delivery agents have to deal with the problems due to traffic jams or vehicle breakdown etc. But now through courier delivery business management software, they can view the movement of the delivery agent in real time mode. They can call or chat with them via in-app calling and chatting feature. Moreover, the delivery agent has no need to move here and there to search the location of the customer. The customized courier app development services provide the solution to this problem. The courier delivery app builder provide the software in which Google maps are integrated to trace the customers address.
Next, to attract the new customers and retain the potential customer, the first and foremost thing is to analyze the niche market. Like from Australia, UAE, US regions, there is demand for zoom2u app clone, wing courier app clone and parcel delivery app clone. It means they are already leading in the race through online courier delivery system. Sometimes the owners have to hire third-party courier companies to manage daily delivery operations which have some problems in itself. In that case, on demand courier delivery app development becomes the perfect solution as you can effortlessly manage your in-house delivery team online through a single dashboard.
Courier service platform development solutions can help you track and schedule daily deliveries, generate daily business analytics report and optimize ROI. You can eliminate all roadblocks that come in the way of your smooth journey to success. If you are searching for reliable courier delivery business app development company, We will suggest you hire the team of courier app developers who can help you to build an online business presence with customized courier app development services. You can choose an experienced team of courier delivery app builder at Goteso who are assisting the clients across the globe with top-rated courier service platform development.
If you are ready to improve your delivery business performance through on demand app, get in touch with top mobile app developers right now.
Online Courier Delivery Business App Model
We have readymade custom web and native app solutions which can fulfill every need for courier delivery business app model.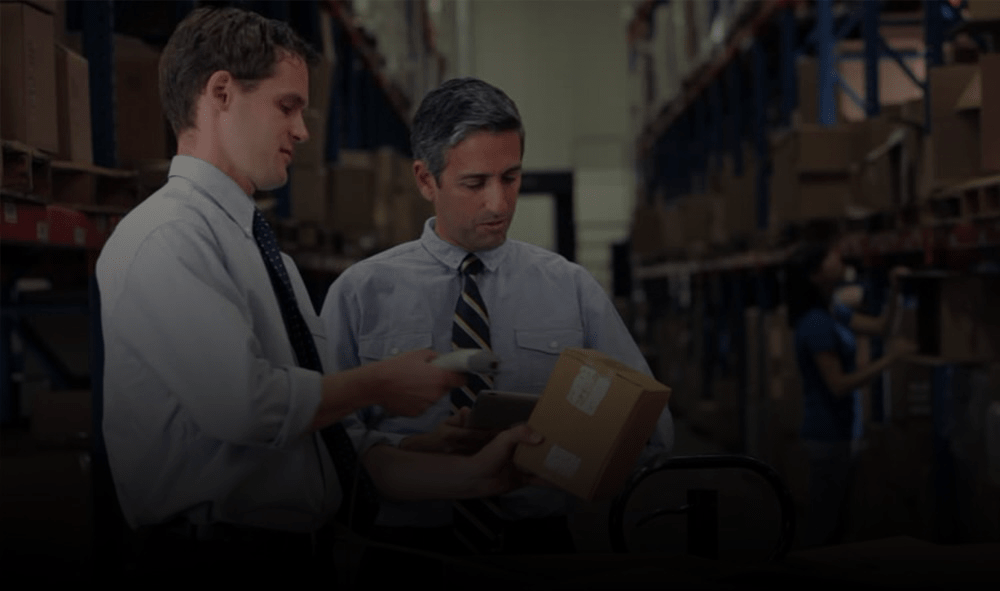 Online Courier Marketplace
Be A Courier Delivery Marketplace Aggregator
We help the entrepreneurs and courier company owners to build their startup and courier delivery marketplace.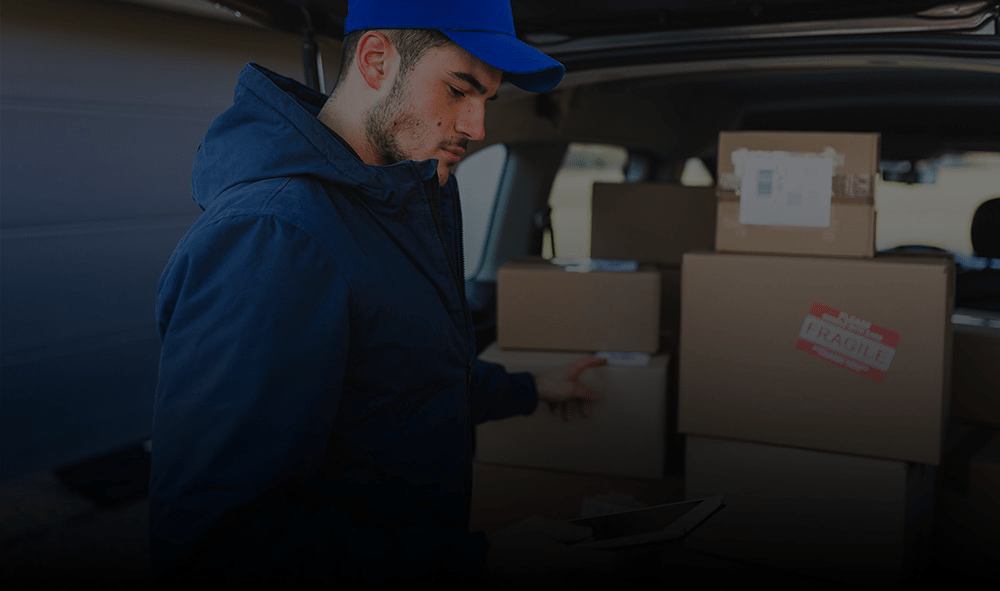 Get An Online Courier Delivery App
Manage your all courier delivery branches with a centralized dashboard. Now, you can easily track the sale of each company.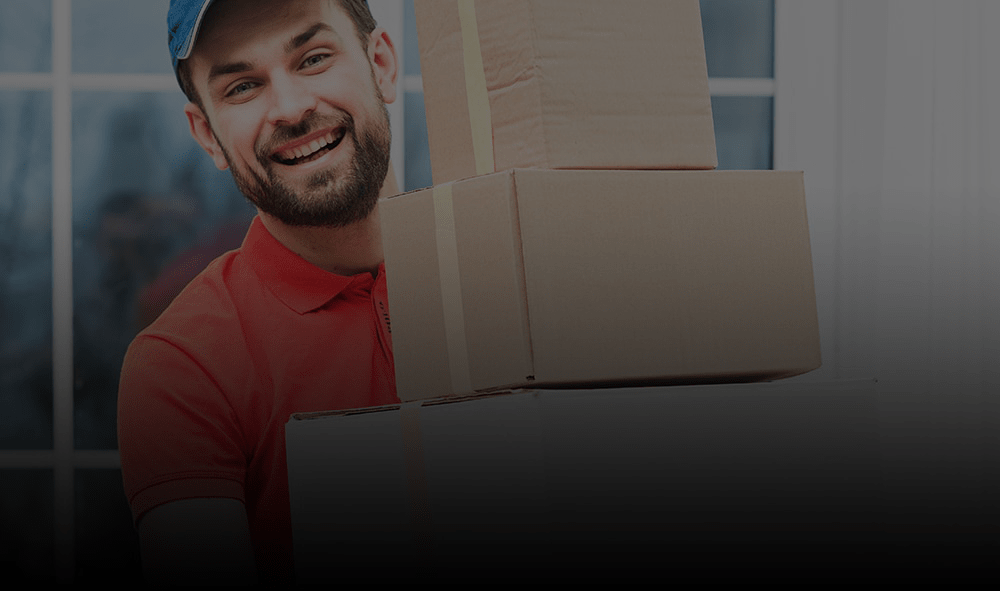 Single courier company App
White Label Courier Company App Development
Execute your business processes from single courier company and satisfy the customers.
Features of Courier App Development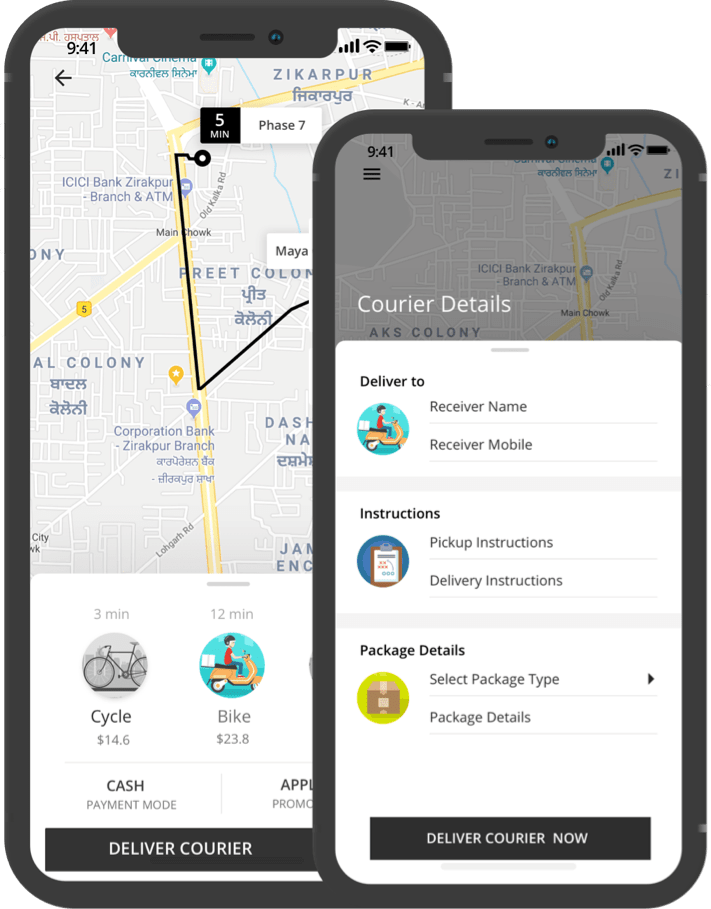 Tutorial and Onboarding Screens
Before getting started to use the application, the customers (sender and receiver) can view the key features and benefits of the app with onboarding screens.
The customers can create their account by entering their name, contact details, area code, address and other details which can make the delivery agent to trace them. They can also use their social media account to log in to the application.
Real-Time Pop Up Notifications
The customer can receive the real-time notifications regarding the delivery updates including estimated time duration of courier delivery.
Order Status With History
The customer can view the status of all previous parcel delivered or received, their bills, and status (processed or delivered). They are able to monitor every detail associated with their parcel delivery.
Customers can select the size of the vehicle based on the parcel they have to deliver. They are also provided with an option to fill the size and weight of the item to deliver.
The customers have an option to add multiple addresses for parcel delivery or parcel pickup in the address list and they can choose any of the address while placing the request for the delivery.
Offers and Discount Coupons
The customers can take advantage of various offers and discounts available on their package delivery.
Customers have an option to share information about service on social media or other messaging apps if they are satisfied with their delivery service.
Digital Invoice Generating Tool
Customers can instantly get the digital copy of the parcel bill at their email id. All information like order id, shipment charges etc will be present in it.
Multiple Payment Processing Systems
Customers are facilitated with an app integrated with multiple payment gateways. They can pay for the service through online net banking, stripe, Paypal, credit cards, debit cards, PayTm and bitcoins (Blockchain based payment processing system).
Ratings and Feedback Management System
The customer can rate or give the feedback about your company as per their experience with your service. It helps the new customers to choose a high rated company for their parcel delivery.
The customers can directly interact with parcel delivery agent or support team through the in-app integrated messaging or calling option. It increases customer-delivery agent engagement.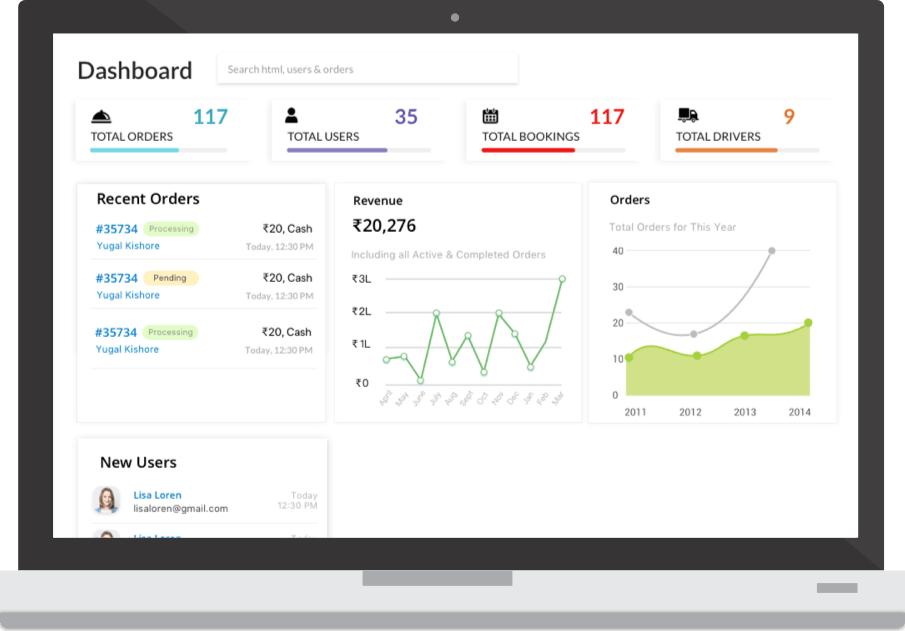 Multiple Courier Branches Management
Admin can manage the multiple courier delivery service branches under the single panel. They have the access to add or delete any branch in the listing.
Vendors and Staff Management
Admin can effortlessly edit the list of delivery agents or other staff members with unique employee id. All the records like their salary, payments, attendance are managed under a single platform.
Real-Time Order and Field Tracking Management
Admin can keep the track of the parcel right from its pickup to delivery. it helps them to keep the customers updated with their parcel's real-time status.
Admin can edit, view and manage the customer records. It helps them to ensure that customers are served in the best possible way.
Admin can send notifications to their past and current customers regarding the special events or discounts vouchers to retain their loyalty.
Admin can send alert to the customer to stay them updated with pickup and delivery time of the courier. It eliminates the waiting issues faced by the delivery agents.
Multiple Payment Gateway Integrations
With multiple payment gateways integrated app, the admin can receive the payment through plenty of ways like a debit card, credit card, net banking, PayPal, Stripe, Bitcoins (Blockchain based payment processing system) and Paytm.
Reviews and Feedback Management
Admin can view and delete the ratings and feedbacks given by the customers regarding the courier delivery service. It is a good way of customer engagement.
App integrated analytical reports help the admin to monitor all the issues related to the business and make the further plan accordingly.
Customer, Sales and Market Analytics
Through courier delivery software, the admin can analyze its business growth in-depth. They can get the real-time statistics of revenue earned by courier delivery agents, daily parcels transacted etc.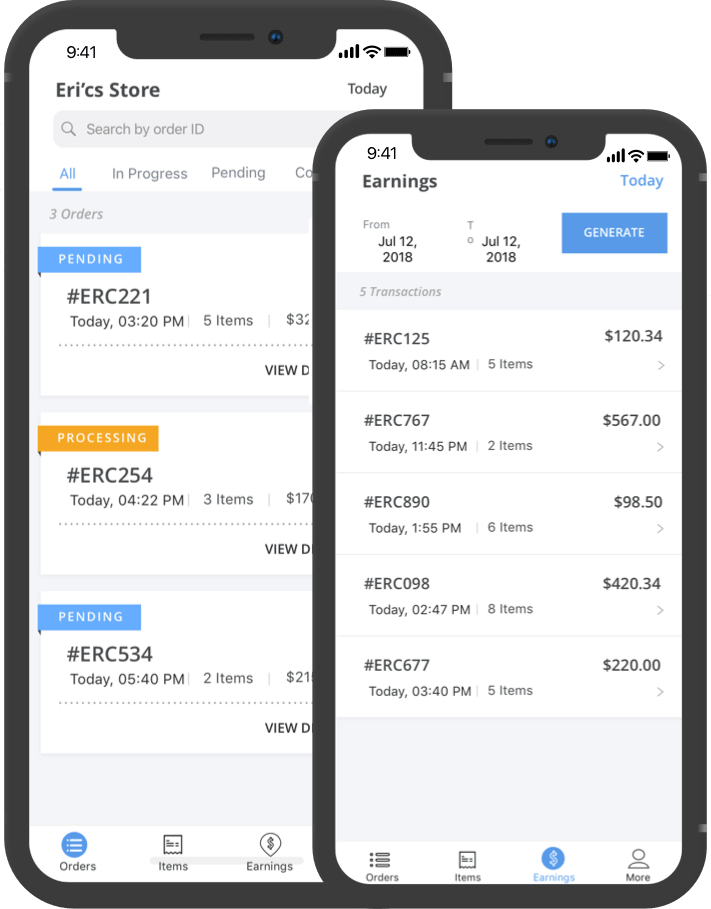 The courier branch managers can easily handle the data of all staff members like vendors, delivery agents or managers etc under the single panel. They can keep an eye on their daily activities like their attendance, expenses, wages etc.
Delivery Agents List and Cost Management
The courier branch managers can view and modify the list of delivery agents on the single online platform. They can also manage the courier shipment cost including the offers, discount vouchers etc. provided at their branches.
The courier branch managers can manage the parcel received and to be delivered under the panel. They can update whole of the associated information of the courier like their sender name, receiver name, their address and delivery time etc.
Customer, Sales and Market Analytics
The courier branch managers can deeply analyze the business performance through business analytics. These statistics provide them the real-time market scenario.
The branch manager can access the record of daily parcels received, delivered and revenue earned by each delivery agent. It gives them the better estimation of business growth.
The branch manager can resolve the queries of customers and delivery agents through in-app chat and calling. Even customers can get real-time updates of their parcel's location from the manager.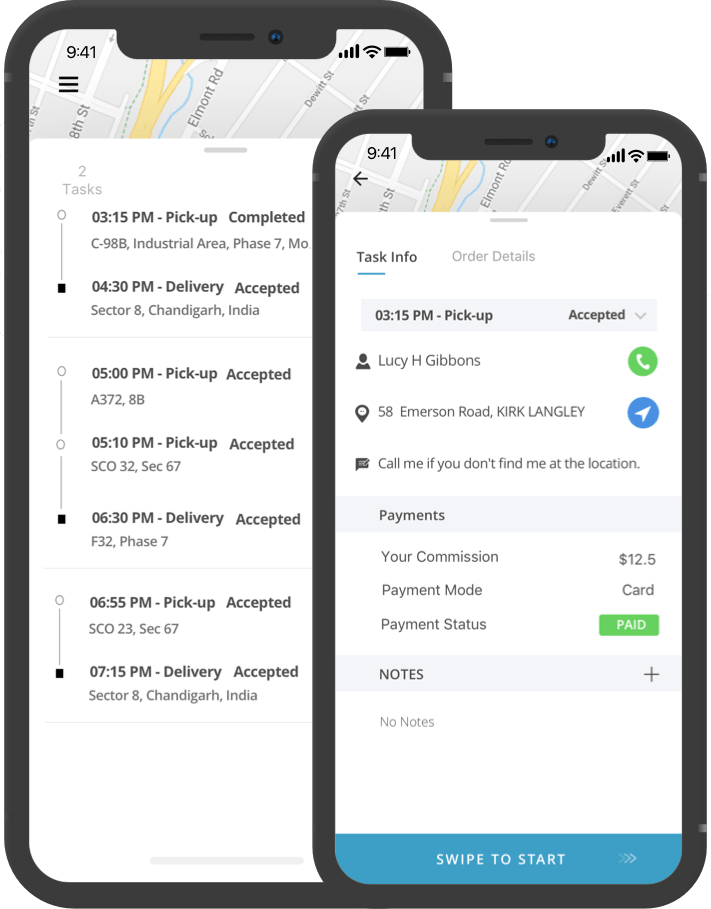 Delivery Status Updation Tool
The delivery agents will get the notifications on newly assigned parcel delivery order, which is to be delivered by them. They will update the status as processed and on delivering the order, the status will be changed as delivered.
Customer Location Tracking Tool
With the help of google maps and GPS, the delivery agent can easily track the live location of the sender and receiver and can find the way to the destination.
What our clients say about us ?
We help startups, small-medium enterprises & multinational companies to grow their business by our exceptional services.
We asked our clients what they think about GOTESO, & here's what they said.
I worked with Goteso and they made two applications for me. They did a great job. Goteso team is very professional. They have huge knowledge how to design the application and how to optimize it. They are currently developing two more applications for me. Yugal Kishore helps me very much. He is very understanding and smart enough to find the solution of every complicated problem in few seconds. It is very easy to communicate with them as they understand what I am expecting. I appreciate and thank Yugal and his team. You have to just imagine and Goteso makes it real. I recommend everyone to trust Goteso.
Akin Karman
Load master, MNG Airlines

    

I received very good work from them so I would strongly recommend anyone to give their business projects to Goteso. They are responsible and respects the client's very well. They confidently talk about every single aspect of the project. They are very cost effective and reliable in work. Every penny invested in the project is really worth for me. Even if you don't have technical knowledge, you don't have to distress about your project while it is in the hands of developers of Goteso. You just have to explore your ideas in plain English, they will transform into scalable, bug-free, quality product which can help you to grow your business.
Ahmad Hefnawy
Founder, Bus Tracking App

    

I am working with Goteso for a couple of months. It was amazing to work with the perfect developing team. They help me a lot with time and budget we discussed beforehand. Mr. Yugal Kishore talks in very professional manner and is always available whenever required. Quality of work is really very great. I would give them 10 out of 10. I will always prefer them in future whenever required and suggest you the same.
Armen Tuken
Co-Founder, Aber

    