Benefits of On-Demand Apps
Updated - November 8, 2021 at 1:11 pm | 3463 Views

Over the last few years, on-demand services have been impacting the businesses positively. Almost every business industry, such as food, healthcare, courier, grocery, transportation, laundry, courier, mechanics, spa, meat, flowers/bouquets, and alcohol, etc., has gained momentum with the continuously increasing utilization of on-demand apps.
So, before getting into the details of this blog post, let's understand:
What is an On-Demand App?
An on-demand app is a medium between consumers and suppliers that allows the consumers to access any product or service anytime and anywhere they need it. With just a few taps on the app, a customer can place the order for the required product/service, and the ordered product/service would reach his/her doorstep in no time.
It has been noticed that there is always one or the other on-demand app available for every kind of service to make it convenient for the users to access it. According to Rockbridge reports, the total consumers of on-demand products and services in the U.S. were about 42M in 2017 which is projected to reach to 93M by 2022. So, it can be assumed that this trend is not going to fade away, instead, will burgeon even after 2025 at a fast pace.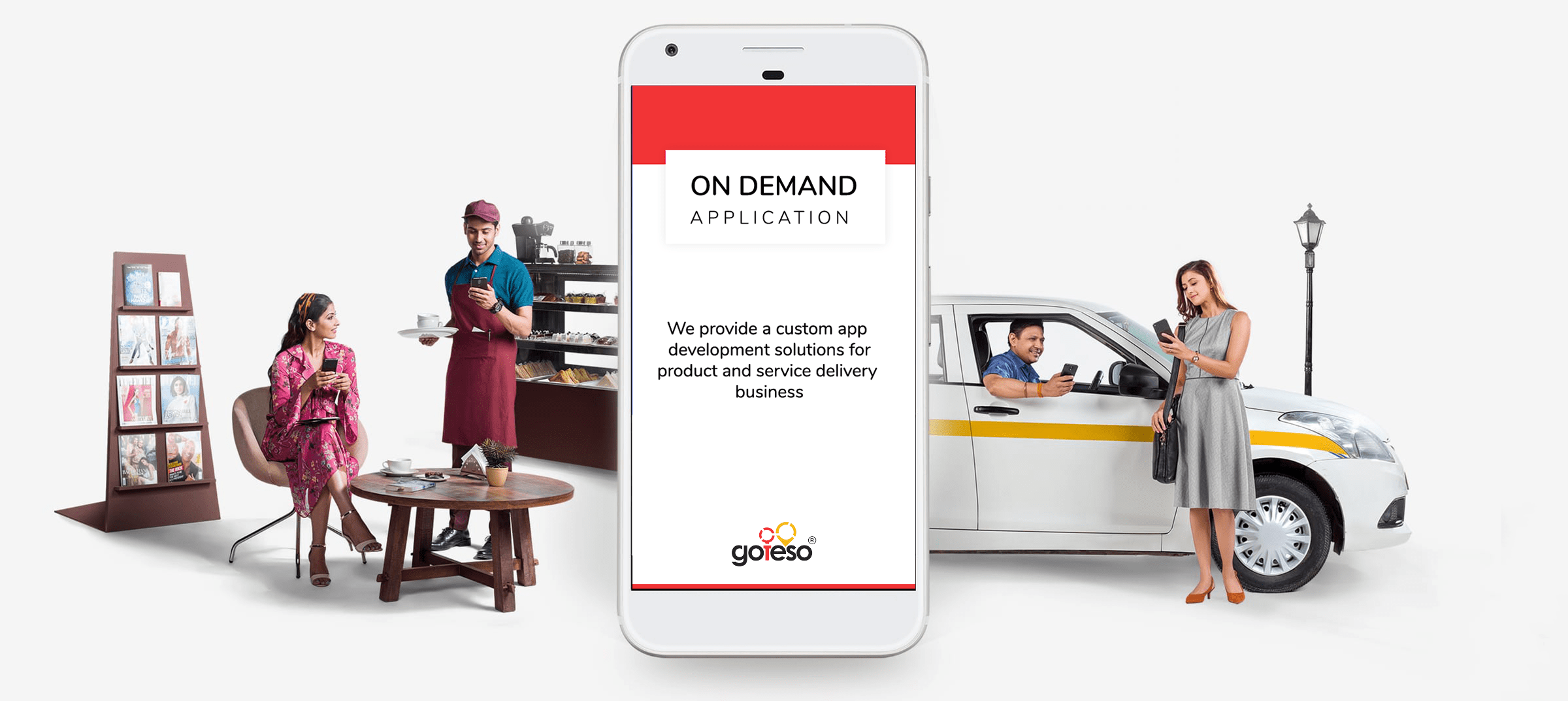 Entrepreneurs from all corners of the globe are now shifting from traditional to Uber for X business model to run their business efficiently. Still, there are some entrepreneurs who think that they don't need on-demand app to sell products to their loyal customers. So, we are shedding light on some massive benefits of on-demand application to help you get rid of all your doubts.
Benefits of on-demand service apps to the businesses
1. Attract more customers with a feature-rich app
Keeping up with customers demands is a never-ending process. On-demand application can allow customers to quickly place an order for the needed products or services using an app. Businesses from all the domains have benefited immensely using on-demand app solutions. Their customers can explore many products/services using filters and place an order directly from the delivery service app. Moreover, including value-added benefits for the app users can enhance their experience which can further help you to generate sales. The on-demand apps that offer a loyalty program to their customers can build a good reputation in the market. Most business owners keep on offering heavy discounts and exclusive deals to their customers to grab their attention and compel them to order for their products or services from the on-demand app. Moreover, integrating easy payment methods in your app will allow your customers to make payments as per their convenience which will enhance their experience.
2. Improve your brand recognition
Brand awareness is one of the most important factors for every business because it can influence the purchase decision of many customers. The on-demand delivery service app allows the business owners to stay engaged with the customers using the integrated chat/calling feature in the app and through that regular interaction, they foster their trust level. The more your customers trust you, the more likely they will rely on your products or services and even commit to your brand.
3. Improve customer experience with on-demand business model
The higher is the customer satisfaction level, the more will be your sales. In fact, as per the SalesForce reports, 70% of buying experiences of customers are influenced by how valued they feel. Incorporating features like real-time tracking tool and multiple payment options in the app will please your customers with products/services and thus, the demand for your brand will grow. But keeping the prices of your products/services affordable is equally important. Reasonable cost and easy to use features will allow the customers to make purchases without any second thought which will result in increased business revenue and profit.
4. Build an in-built marketing pipeline
An on-demand application can prove to be the finest marketing tool for your business. You can instantly track customers' behavior using the analytics to understand what they really need and make amendments accordingly. You can also give your customers a medium to share their experience and demands by incorporating review/feedback section in your app to know the strengths and shortcomings of your business. Above all, you can leverage your app to let your users know about the new product arrivals and other events by sending real-time push notifications. This will help you run your business efficiently and smoothly.
5. Stay 24 X 7 available for the customers
You can attain maximum benefits by serving your customers 24/7 through your on-demand app. Just by a few taps and swipes in the app, they will be able to access your products and services anytime to place an order which will be delivered to their doorstep. These kinds of services will help you to reach out to more customers and enhance their loyalty towards your business. Besides, customer support is an important factor that connects the potential customers to your business. Responding to their queries and resolving their issues related to your services will allow you to boost their satisfaction level and retain them for a long time.
6. Increase your business scalability
By developing an on-demand app, you will be able to manage hundreds or thousands of customer and orders nimbly. As we have discussed above, more customers lead to more revenue, there will be a time when you will have enough potential to open multiple stores of your business in different regions or cities and manage them under a single platform hassle-free. Thus, a mobile app can help you to expand and streamline your business in all possible way.
It is vital to choose an on-demand app development company that understands the significance of building a mobile app that utilizes the minimum efforts for the customers to make purchases. It will give your customers a better-personalized experience and you will more likely to increase your sales and revenue.

In this cutting-edge competition, it is important to ensure the easy availability of your products or services across a wide variety of platforms. Ordering product using the mobile phones is more prevalent than ever in today's era. If you think that your business also needs an on-demand app to enhance online business presence, share your requirements at info@goteso.com. Our top on-demand app developers will try their level best to build a unique and feature-rich app that will align with your business goals.