How farm to fork model is reshaping the meat retailing industry?
Updated - February 17, 2023 at 9:56 pm | 936 Views

Following the global economic downturn caused by the Covid-19 pandemic, startups and small to medium-sized enterprises (SMEs) are exploring novel strategies to expand their businesses. However, the enterprises that are achieving success are the ones that are adapting to changes in consumer behaviour and offering fresh, nutritious, and reasonably priced products that are promptly delivered to customers' doorsteps.

In the wake of the Covid-19 pandemic, individuals are increasingly mindful of their dietary choices and are seeking information about the origin of the products they consume. In a highly competitive market, a butchery business can maintain a lasting presence by ensuring the provision of hygienic food with traceability options. This can only be accomplished by adopting a farm to fork model for your meat retailing business.

What is farm to fork strategy
The Farm to Fork strategy was introduced in May 2020 by the European Commission as a part of the Green Deal Framework, with the goal of creating a sustainable food value chain by 2050. Through the implementation of this strategy, the EC aims to –
Make safe, sustainable, sufficient, high-quality, and nutritious food accessible to all individuals.
Safeguard the health of plants, soil, air, land, and animals, as well as the environment throughout the food supply chain – from production, transportation, distribution to consumption.
Ensure that affordable food is available to all.
Provide fair returns to all individuals involved in entire food supply chain.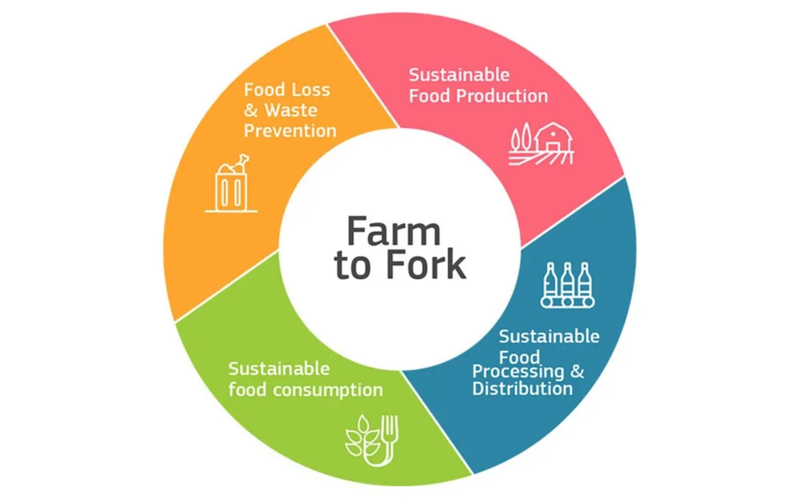 In the coming years, the farm to fork strategy has the potential to revolutionise the way farmers, processors, wholesalers, suppliers, and retailers operate within the food industry. This approach emphasises the importance of creating a seamless, sustainable, and transparent supply chain that benefits all parties involved, from the beginning to the end of the food production process. Therefore, the implementation of this strategy could lead to significant improvements and benefits for all stakeholders within the food chain.
What is farm to fork model and how is this helping the meat retailing industry?
In this model, farmers are able to sell their fresh produce directly to the nearest processing centre, ensuring that they receive a fair and competitive price for their goods.
At the processing centre, lab technicians perform rigorous quality checks on the meat, including ensuring proper nutrition, freshness, and hygiene. The overall cleaning process guarantees that the meat is of the highest quality before it is dispatched to the nearest store or outlet.
In this model, the entire supply and cold chain is managed by the business owner. This means that from the moment the meat leaves the farm to the moment it is delivered to the customer, the owner is responsible for ensuring that the product remains fresh and of the highest quality. This approach not only ensures that the customer receives the freshest and most nutritious product possible, but also helps to support local farmers and businesses.
After examining the farm to fork strategy, it has become apparent that today's consumers are seeking food that is not only affordable, but also high-quality, nutritious, safe, and sustainable. One of the key advantages of the farm to fork model is the absence of middlemen and wholesalers within the supply chain, which allows for direct transactions between the processors and end consumers.
As a result, businesses that adopt the farm to fork approach can potentially earn significantly higher profit margins, ranging from 30% to 45%, as compared to traditional supply chain models. This is because the elimination of intermediaries means that more revenue is retained by the primary producers and sellers, rather than being distributed to multiple parties along the supply chain. By embracing this innovative and sustainable approach to food production, butchery businesses can meet the growing demands of consumers while also benefiting from increased profitability.

Traditional Meat Supply Chain Vs Direct To Consumer
Under the traditional meat business model, customers frequently faced higher prices due to a lengthy and complicated supply chain. This process involved middlemen purchasing meat from farmers, who then sold it to wholesalers, and eventually to butchers or retailers, before reaching the hands of the consumers. Unfortunately, each intermediary added their own markup, leading to inflated costs for the customers.
Farmers → Middlemen → Wholesalers → Butchers or/and Retailers → Consumers
As the meat passes through the various stages of the conventional supply chain, it progressively loses its freshness, nutritional value, and shelf life. Unfortunately, this process ultimately results in consumers purchasing meat at a premium price, while having to compromise on both quality and freshness.
However, with the advent of the farm-to-fork model, there is a shift towards a more direct and efficient supply chain that priorities the delivery of fresh, high-quality, and healthy meat directly to the customer's doorstep. With such a reliable and affordable supply of meat available, it is unlikely that customers will continue to visit traditional markets to purchase nutrition-less, unhealthy, and overpriced meat. By prioritising transparency, sustainability, and customer satisfaction, the farm to fork model has the potential to revolutionise the meat industry and improve the quality of life for both customers and producers.

The direct-to-customer (D2C) model allows business owners to sell meat products directly to consumers from their farms or processing centres, enabling them to earn higher margins compared to those who continue to rely on the traditional supply chain. By bypassing intermediaries and wholesalers, D2C not only provides greater transparency and control over the entire supply chain but also allows producers to establish a more personal connection with their customers. Additionally, this approach enables customers to access fresh, high-quality, and healthy meat products at more affordable prices, while supporting sustainable and responsible practices in the meat industry.

Case Study | Licious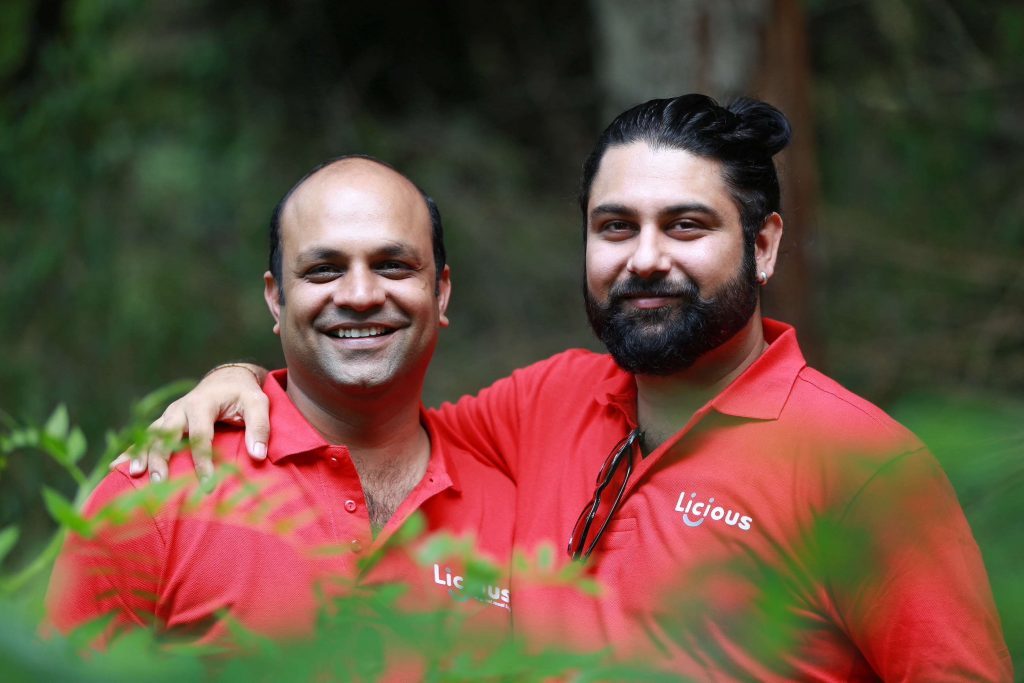 About Licious Company
In exploring the farm-to-fork model, we turn to the case study of Licious, a company that has become a leading player in the Indian meat industry. Licious is an online meat shop that started its delivery operations a few years back in 2015. This brand is well-known for its premium and high-quality fresh meat, fish, eggs, mutton, seafood, & chicken delivery within 2 hours. Currently, they are serving only 28 cities across India mainly in Agra, Bengaluru, Bhilai, Chandigarh, Chennai, Cochin, Coimbatore, Delhi, Faridabad, Gurugram, Hyderabad, Jaipur, Kanpur, Kolkata, Lucknow, Mohali, Mumbai, Nagpur, Nashik, Noida, Palakkad, Panchkula, Pune, Pondicherry, Thrissur, Trichy, Vijayawada, and Visakhapatnam.
Licious Business Model
Licious has built its entire business model on the principles of transparency, sustainability, and quality. With a team of over 3750 employees, Licious is committed to maintaining a seamless supply and cold chain that ensures the delivery of fresh, high-quality, and safe meat products to its customers. From partnering with small-scale farmers to implementing rigorous quality checks and ensuring ethical and responsible practices throughout its supply chain, Licious has become a trusted brand that prioritises the needs and expectations of its customers.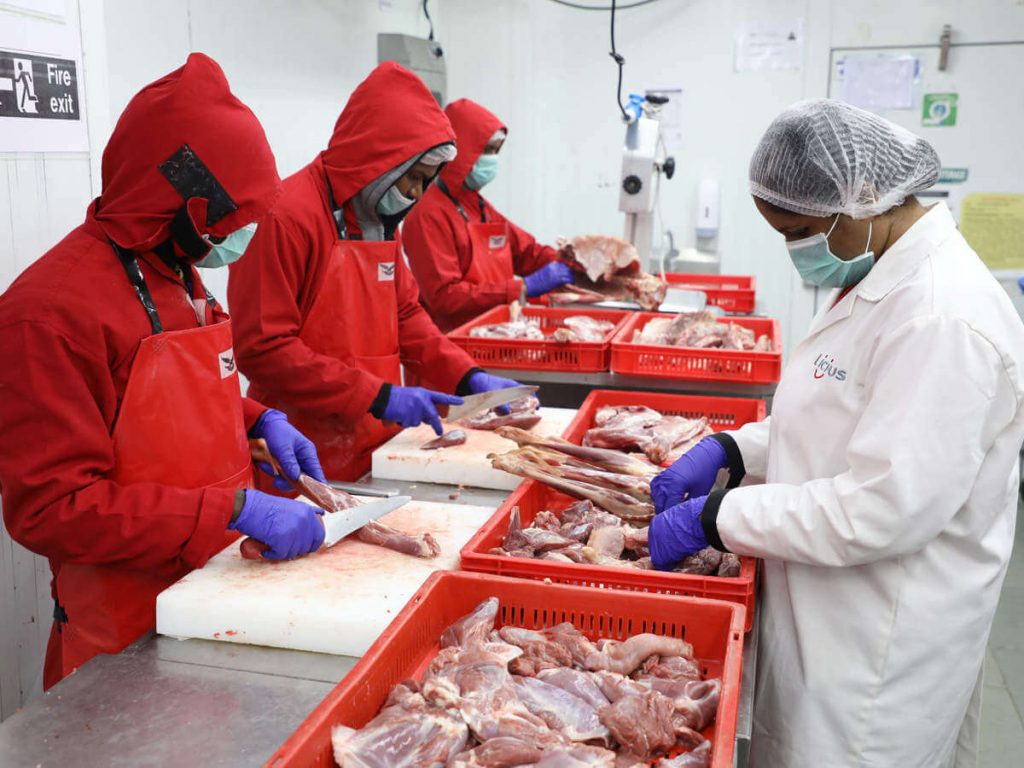 From procurement to processing, processing to storage, and storage to delivery, everything is managed by the company itself. Initially, they purchase the meat from farmers and do the cleaning, cutting, and storing of it at their 5 processing centres located in Mumbai, Hyderabad, Gurugram, and Bengaluru. And by analysing the demand in the areas, they dispatch the meat stock to their delivery centres across India.

Licious Revenue
Licious, the popular online meat delivery service, has already gained a massive following of over 1 million satisfied customers thanks to its fresh and flavourful products. With an impressive delivery rate of over 6400 orders per day and an average cart size of INR 700, Licious has quickly become a go-to source for high-quality meat products.
In their first year of operation, Licious generated a revenue of INR 1.47 crore by selling meat online. Over the years, their revenue has skyrocketed, with earnings of INR 180 crore in FY 2019-20 and INR 138 crore in the financial year 2020-21. However, Licious reached a new milestone in FY 2021-22 when they became a direct-to-consumer (D2C) unicorn, experiencing a massive surge in revenue. They earned INR 435 crore, which is three times more than the previous year.

If you're inspired by Licious' success and are considering launching your own online meat delivery app, we're here to help! Don't hesitate to reach out and ask any questions you may have about the butchery business. You can reach us by a call at +1 415-992-6367 (US/CANADA), +91 62833-64139 (INDIA) or send the requirements at sales@goteso.com.

It's worth noting that while Licious has already achieved remarkable success in India, where the consumption rate of meat is relatively low compared to other countries, the potential for success in other countries with higher meat consumption rates is enormous. So, if you have an innovative idea and the drive to succeed in this growing market, now is a great time to get started!